Andrew Simpson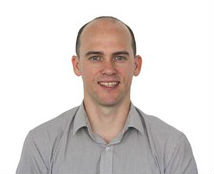 Hours:
Russell – Wednesday 9am – 1pm Macleay – Wednesday 1pm-5pm
Website: www.myhealthteam.com.au
Andrew has always been passionate about exercise and the therapeutic effects it has on our bodies, so following a career as an exercise physiologist was a natural choice.
He believes that everyone should have the ability to enjoy being physically active and leading a life that is not constrained by mobility deficits.
Andrew earned his Bachelor of Exercise and Sport Science from Griffith University Gold Coast Campus and a Bachelor of Business from the same institute.
Additionally he has certifications in Kinetic Link Training and Group Facilitation.
He started his career in 2006 working as a cardiac physiologist in Queens Hospital, Roehampton, predominately doing cardiac investigations. When he returned to Australia he focused on workplace rehabilitation and return to work in Central Queensland. While there he also facilitated injury prevention programs with mining companies.
Wanting to develop another skill, he then moved into health and wellness, helping executives maintain healthy lifestyles with exercise interventions.
Following that he started My Health Team with Mark Antonello in January 2012 where they combined experience to create a collaborative healthcare that helps people live healthier and happier lives.
Andrew loves working with people who have a strong desire to live an active life. A lot of his clients see the mobility issues their parents or friends are going through and want to avoid that themselves. He specialized in developing programs for those who have difficulty exercising due to aches or pains, particularly for those aged fifty plus.
When he is not working he enjoys spending time with his two beautiful young children. When they are not doing fun things as a family, he loves spending time surfing, cycling, and mountain biking.
What is an Accredited Exercise Physiologist (AEP)
An AEP holds a four-year equivalent university degree and specialises in the exercise and movement for the prevention and management of chronic diseases and injuries. AEPs provide support for people with:
obesity
cardiovascular disease
diabetes
osteoporosis and arthritis
mental health conditions
cancer and cancer treatment recovery
chronic pain and fatigue
post-surgical rehabilitation (ACL reconstruction, hip/knee replacement)
neuromuscular exercise therapy (multiple sclerosis, cerebral palsy, Parkinson's disease)
pulmonary disease and more
What makes AEPs different to other exercise professionals?
The differences are:
They are university qualified
They undertake strict accreditation requirements
They are eligible to register with Medicare Australia, the Department of Veterans' Affairs and WorkCover and are recognised by most private health insurers
They can treat and work with all types of people, those who want to improve their health and wellbeing to those unfortunately suffering from a chronic illness.
Accredited Exercise Physiologists are different by the possession of extensive knowledge, skills and experience in clinical exercise delivery and their ability to provide health modification counselling for people with chronic disease and injury.
How are AEPs different from physiotherapists?
Accredited Exercise Physiologists and Physiotherapists are both allied health professionals, however AEPs primary focus is to use exercise to prevent, manage and treat complex medical conditions.  AEPs typically work with conditions such as (but not limited to): heart disease, diabetes, mental illness, delaying cognitive decline, some cancers, lower back pain, osteoporosis and osteoarthritis.
AEPs will utilise their skills in exercise prescription, combined with their training in behaviour change, to empower clients and assist them to manage their health independently.  Their skills are particularly well received by clients who are looking to age well and age independently.