Vanessa Bayley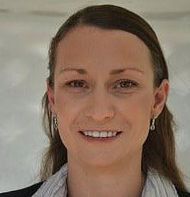 Hours: Wednesday 1pm – 5pm
Vanessa joined the team in February 2016 from Victoria Point Physiotherapy. Graduating with Masters of Physiotherapy in 2005 she has since devoted her time to private practice treating a variety of conditions.
In 2012 she opened the Red Edge Physiotherapy clinic in Redland Bay and has helped many patients by combining her physiotherapy experience with a practical approach to balancing people's busy lifestyles. She now divides her time between Red Edge Physiotherapy and Victoria Point Physiotherapy
Her physiotherapy focuses on:
Musculoskeletal and Sports Private Practice Physiotherapy
Occupational Health Physiotherapy
Return to Work and Rehabilitation Coordinator
The main aspect of physiotherapy she enjoys is giving patients a chance to incorporate their self-treatment around their life's activities. People are too busy to be injured or even to put up with annoying niggles therefore she helps educate about your symptoms or injuries and implements some techniques that make you recover so much easier, and before secondary problems arise.
What is Physiotherapy?
Physiotherapy is a science-based profession and takes a 'whole person' approach to health and wellbeing, which includes the patient's general lifestyle.
At the core is the patient's involvement in their own care, through education, awareness, empowerment and participation in their treatment.
You can benefit from physiotherapy at any time in your life. Physiotherapy helps with back pain or sudden injury, managing long-term medical condition such as asthma, and in preparing for childbirth or a sporting event.
Physiotherapists help people affected by injury, illness or disability through movement and exercise, manual therapy, education and advice. 
Physiotherapists use their knowledge and skills to improve a range of conditions associated with different systems of the body, such as:
Neurological (stroke, multiple sclerosis, Parkinson's)
Neuromusculoskeletal (back pain, whiplash associated disorder, sports injuries,arthritis)
Cardiovascular (chronic heart disease, rehabilitation after heart attack)
Respiratory (asthma, chronic obstructive pulmonary disease, cystic fibrosis).