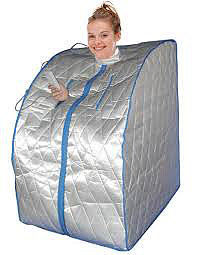 Portable far infrared sauna to relieve aches and pains, improve circulation, assist in weight loss and detoxification. Available for use in clinic or the comfort of your own home.
What to wear / bring
* Swimmers or shorts and singlet
* 2 x towels
* Music or book
Water.
It is important that you drink plenty of water before, during and after a FIR Sauna to ensure you are hydrated.
Safety.
It is not advisable to use if you have an impaired ability to sweat, have a pacemaker or are more prone to bleeding. Speak with your healthcare professional with regard to suitability.
---
BOOKINGS
RATES
Book on-line
1 x 1hr – $20 (in store)
3 x 1hr  – $50 (in store)
Book in store*
3 x Days – $90 (at home)
7 x Days – $180 (at home)
*conditions apply